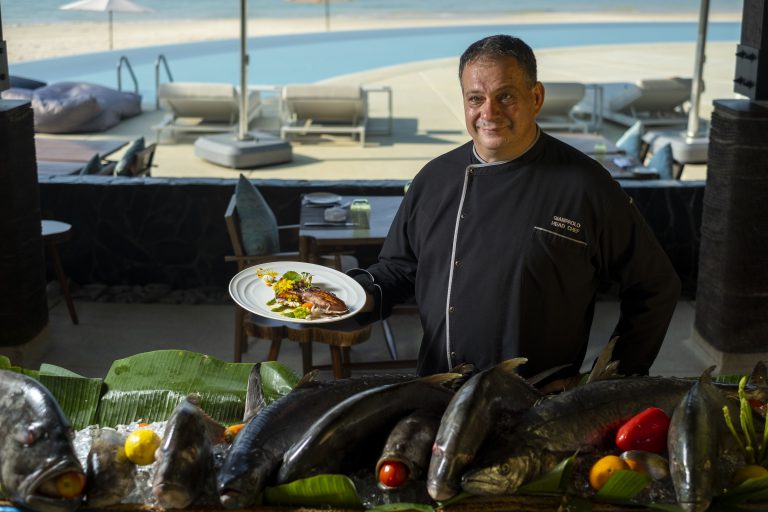 GET TO KNOW: CHINELLATO GIAMPAOLO, CULINARY DIRECTOR AT AWEI PILA
The man behind the exquisite dishes at Awei Pila, Chinellato Giampaolo, Culinary Director, is no stranger in the culinary scene. Since the start of his career in 1989, Chef Giampaolo has had a colourful working experience in some of the best restaurants in the world. His foundation began at Hotel Management School IPSSAR Maffioli in Italy, before building his name at Al Faraone in Padua, Italy, and appearing on a local TV cooking show.
From Seychelles to the Maldives and the Caribbean, his professional journey as a chef has shaped his skills, which are clearly on display in Awei Pila's nouvelle cuisine. For Giampaolo, one of the highlights of his career was becoming the executive chef in charge of four islands in the Maldives.
"If you want to become a great chef, you have to work with great chefs. And that's exactly what I did," once said Gordon Ramsay. Likewise, Chef Giampaolo continued his legacy when he returned to Italy, working in a 2-star Michelin restaurant in Venice, Trattoria dall'Amelia, one of the best hospitality groups in his hometown.
After writing two successful recipe books, "Baccala & Stoccafisso" and "La Grande Cucina Veneta", it was time for him to step into the business world; he opened his first restaurant in Venice.
In four years, the restaurant was awarded a Michelin star, regularly mentioned in the national press with glowing reviews. However, soon after Chef Giampaolo started setting his sights on a new goal: exploring the fine-dining world across Southeast Asia.
Last September, Chinellato Giampaolo was appointed as Executive Chef/Culinary Director at Awei Pila Resort under Memories Group, after opportunities working in Dubai, Malaysia and Thailand.
Some of his finest achievements include:
Awarded Best Expat Chef in MIGF Malaysia Gastronomy Event
Bocuse dÓr Participation Certificate
Authored two recipe books in Italy: Baccala & Stoccafisso and La Grande Cucina Veneta
Won 7 awards at MIGF (during his second participation)