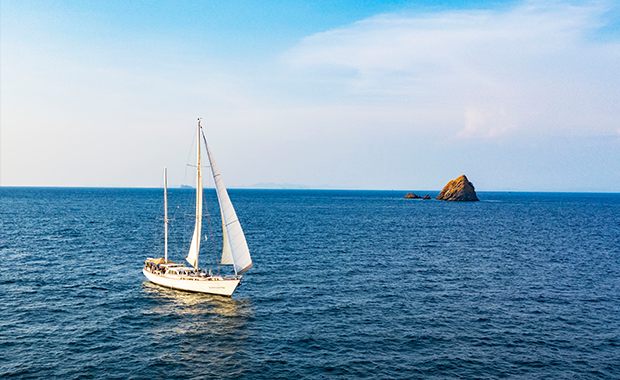 Burma Boating Cabin Charter Cruises
From sailing to the Northern Mergui Archipelago islands to adventurous expeditions to the south, experience it with Burma Boating, which runs charter sailing cruises from Kawthaung every Saturday between October to May.
The Mergui Archipelago is a pristine area rarely visited by travellers, allowing one to explore waters that are yet to be seen by mass tourism. Along the banks encircled by the blues of the Andaman Sea, white sand beaches stretch onwards to infinity.
What is it about these charter cruises and why are they popular among travellers? Setting sail to the wonderful Mergui islands allows you to unplug as you discover paradise on earth and go on underwater adventures. To some, it's a once-in-a-lifetime opportunity.
The adventure with Burma Boating also allows you to experience the local culture. Take the North Route on a 5N6D cruise where guests will get to learn more about the Moken people, also known as the 'sea gypsies', whose traditions are still preserved to this day.
On the other hand, the route to the South will introduce you to escapades in the famous islands of the Mergui Archipelago. From hiking, bird-watching mornings to snorkelling and kayaking, this cruise is an all-in-one package for adventure enthusiasts.
Prefer a more personal touch? Burma Boating also offers private cruise and customised itineraries depending on guest's requests and availability of yachts. All of our cabin charter cruises are operated by SY Meta IV, SY Y Not or equivalent yachts. Learn more about our fleet here.
Regular prices range from USD 1,600 per person for the 3 nights, 4 days cruise to USD 2,600 per person for the 5 nights, 6 days cruise. Our rates include a full crew, all on-board multi-course meals, all non-alcoholic drinks, all activities, snorkelling equipment, fishing gear, kayaking, dinghy and fuel. Explore the Mergui Archipelago with us! www.burmaboating.com