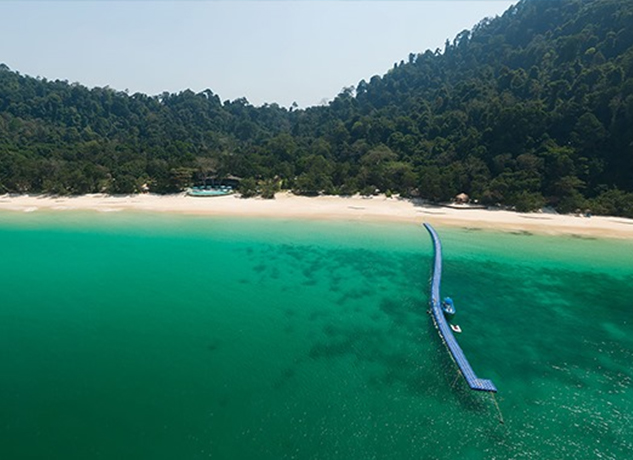 AWEI PILA RESORT HOSTS CONSERVATION INITIATIVE: 'GHOST NET RETRIEVAL'
At luxury private island experience Awei Pila, located in the Mergui Archipelago, sustainability is the core philosophy. The resort's environmentally-friendly practices aim to maintain the balance of the island's ecosystem while providing guests with unparalleled comfort and luxury amidst lush nature.
Earlier this year, the resort hosted the 'Ghost Nets' conversation initiative, bringing together a team of experienced divers from across the world. The divers spent four days retrieving lost and abandoned fishing nets from the sea. The quest was helmed by Ocean Quest Global, an organisation dedicated to the protection and rehabilitation of coral reefs.
Abandoned fishing gear, known as 'ghost nets', are left behind in fishing waters and has been causing harm to the waters in the region. The littered nets are made of nylon or plastic and do not break down for years, causing a pressing problem to the rising pollution levels in the waters around. Nets that are left at sea may endanger marine life and suffocate the coral.
The divers made their way toward the Red and Rocky Islands from which they dive twice a day, to depths of up to 30 meters, removing discarded nets. Each net can weigh up to 80 kilograms; it takes a team of eight divers up to an hour to retrieve one fishing net.
Throughout the exercise, divers managed to recover as much as 300 kilograms of this fishing gear from depths of up to 25 meters in the surrounding reefs. The recovered nets are also examined to ensure that the size of the twine being used is within Myanmar's legal parameters. This prevents alternative twine from being utilised to snare juvenile fish and negatively affect the future of the archipelago's fish stock.
For Awei Pila, the resort continues to focus on offering a sustainable private island experience for its guests, with the aim to make a positive impact on the environment on the land they call home.